Historical Archives
San Francisco Region has been in existence for over 70 years and has a rich history of road racing, solo competition and concours d'elegance.
Are you looking for historical information including entry lists, race results or photos from Northern California and West Coast sports car racing?
The SF Region Archives has a collection of material and memorabilia thoughtfully donated by current and past members, plus interested individuals who want to see this club's 71 year history preserved for future generations of racers and enthusiasts.
For information, contact: NORPAC Archivist, Gary Horstkorta: norpacarchivist@comcast.net
The  Archive has been steadily growing and currently contains a good collection of the following items:
Issues of The Wheel, Competition Press/Autoweek and SportsCar
Road & Track, Car & Driver, Motor Trend, Sports Car Graphic, Sports Car Illustrated, MotoRacng and miscellaneous other publications and books*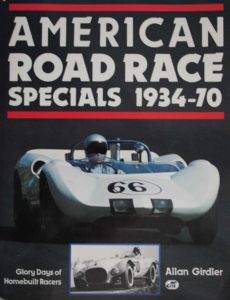 Photos including the Paul Zimerman Collection, Jerry DeSilva Collection*, and those contributed by John Blakemore, Stephan Curtin, Dave Dodd, Stephen Holman, Allen Olsen, Dan Boose, Mike Hayworth, Harry Fair Family, Mick Marsten, Dick Sisich, Stewart Hall and many others:
Memorabilia including dash plaques, buttons, patches, trophies, etc.
For details or to make a contribution to the Archive, please contact: NORPAC Archivist, Gary Horstkorta: norpacarchivist@comcast.net
The Wheel features the monthly column Notes from the Archives which presents stories from the SFR history along with photos from the 1960's and 1970's. View The Wheel archives under The Wheel link at the top of the page.
Note: The Archive does not have any information on car chassis or serial numbers. For rollbar numbers, contact Samantha Stoker at sdstoker@gmail.com